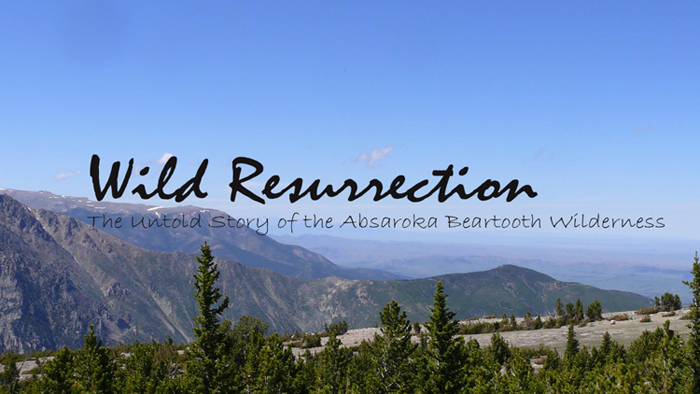 40 years ago on March 27th, 1978, President Jimmy Carter signed PL-95-249 "An Act to designate the Absaroka-Beartooth Wilderness, Custer and Gallatin National Forests, in the state of Montana."
Today, the protected status of this place is vital to our regional identity, our economy and to the plentiful wildlife, intact ecosystems, clean water and clean air we all cherish.
But it almost didn't happen.
This 32-minute documentary tells the story of that near miss, and explores the meaning of this place – and of Wilderness itself – to our human psyche.
See the movie HERE!
Written, produced and directed by Kris Prinzing for MusEco Media and Education Project.
© 2018 MusEco and Kristen Prinzing
Edited by Kris Prinzing and Kayla Janowski
Assistant Producer: Kayla Janowski
Production assistance and still photography: Scott Prinzing
Music by Montana Tunesmith and Steve Eckels
Videography by Scott Prinzing, Kayla Janowski and Ivy Bryan
Narration by Robert E. Rickels
Funding assistance provided by the Greater Montana Foundation and private donations to MusEco. Supported as well by an enormous amount of in-kind support from the production team.

Individuals Featured in the Film
Jael Kampfe – Rancher, great-granddaughter of pioneer rancher Malcom Mackay;
Marvin Dawes – Absaálooke historian, Interpretor at the Little Bighorn Battlefield;
Bill Cole – Attorney and Billings Mayor, elected fall 2017;
Marci Dye and Mary Ellen Mangus – Daughter/Mother owners of Sylvan Peak Mountain Shop in Red Lodge;
Barb Pitman – Wildlife Biologist, recently retired from the USFS (Beartooth District);
Bill Cunningham – Wilderness Advocate and Conservation Professional, involved in the designation of the Absaroka Beartoth Wilderness;
Teddy Roe, Ph.D. – Legislative Director to Sen. Metcalf and career public servant, including 10 years serving Mike Mansfield and several years serving other MT Senators and Representatives;
Harrison Fagg – Architect, ret. and Former Montana State Legislator and legislative leader (R), involved in the designation of the Absaroka Beartooth Wilderness;
Bob Anderson (deceased) -Wilderness Advocate and Conservation Professional, Author of the Montana Geographic Series monograph Beartooth Country, and involved in the designation of the Absaroka Beartooth Wilderness.
Photography and videography
This film features a wide variety of photography from the backcountry of the Absaroka Beartooth, most of the images taken by Scott Prinzing (and Kris Prinzing), but other images were supplied by Larry Mayer (aerial photo of the Absarokas with foothills in the foreground and Granite Peak), Jennifer and Tom Lyman (Grasshoper Glacier), Bill Cunningham (a variety of photos from his personal collection that date to the late '70s, early '80s, Frank and Patsy Culver (photos from a 1974 trip from Cooke City to East Rosebud).
Scott filmed most of the interviews, Kayla assisted him on two shoots. Kayla took most of the video footage of the AB used in the film. Ivy Bryan filmed the interview that Kris conducted with Harrison Fagg.
Documents and archival images and footage
Clips included (with permission) of the film, Remembering Lee Metcalf, Max Films, 1996, directed by Evan Barrett.
Many people generously gave time, expertise, information, documents, images, footage, locations, introductions, referrals and much more:
Stephen Aaberg
Crystal Alegria
Grace Anderson
Bill Cunningham
Frank and Patsy Culver
Jeff Gildehaus
Rick Gratz
Lisa Harmon
Kevin Kooistra
Karole Lee
Jennifer and Tom Lyman
Montana Wilderness Association
Laura Parr
Dr. Janine Pease
Bob Quam
Ralph Saunders
Gerald Sherman
Sylvan Peak Mountain Shop family and staff
Allie Wood
Archival materials (documents and images) courtesy:
Billings Public Library
Carbon County Historical Society, Red Lodge
Carbon County News
Jimmy Carter Presidential Library and Museum
Park County Historical Society, Cody
Lyndon B. Johnson Library
The Montana Historical Society
MSU-Billings Library
Museum of the Beartooths, Columbus
USFS Beartooth Ranger District Historical Archives
Western Heritage Center, Billings
Special Thanks To Teddy Roe
who was Legislative Director to Sen. Metcalf from 1973 – 1978, a career public servant, including ten years serving Mike Mansfield, and also served three other Montana Senators and the Bureau of Land Management.
We appreciate all the time, intelligence, sense of humor, help and encouragement Teddy gave us
in the making of this film, and we thank him for raising his hand on behalf of all of us …
especially the Absaroka Beartooth.
Press and press releases about the film
Press releases here.
Article by Ed Kemmick in advance of the film.
More about Lee Metcalf
An article by Ed Kemmick of Last Best News published in advance of the film opening in Billings;
A piece about Lee Metcalf in history by Evan Barrett;
A link to the film by Evan Barrett about Lee Metcalf.
MusEco Media and Education Project »
MusEco thanks it's partners and supporters!!

Partners include KTVQ Television (Billings), Montana PBS (Bozeman), and the Office of Public Instruction (OPI - Indian Ed) (Helena). Underwriters of Green Smarts with the Green Man have included Montana State University-Billings, Sylvan Peak Mountain Shoppe and Montana Harvest Natural Foods. Special thanks also go to the many individuals who donate annually, volunteers who give of their time, and funders like the Greater Montana Foundation who see the value in our work. Thank you!

THANK YOU!






Website created and maintained by Kris Prinzing - email her about any website issues you encounter, please!


Last site update: April 12, 2018 ...